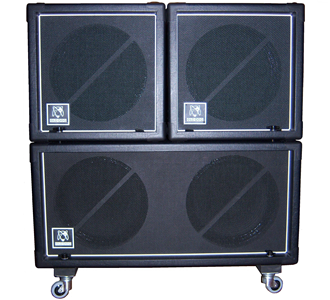 The Modular Speaker System for guitar is designed to give the ultimate flexibility in guitar cabinetry. You only need a 1×12 cab, just take it out of the system. Need the 4×12 thunder, bring the whole kit. One system, all bases covered. You get exactly the right cabinet at exactly the right time.
Want to do the ultimate wet/dry/wet stage setup for a monster sound? The Modular Cabs make it real easy get the sound previously reserved for rock royalty.
The Modular Cabs are an easy way to do wet dry wet with what most people carry around cabinet wise anyway.
The basic building blocks of the modular system are the 1×12 and 2×12 cabinets. Any combination of these blocks will lock together with the supplied fasteners. The 2×12 with two 1×12's kit is shown, but four 1×12's will also make a kit.
Now some specs:
Multi-ply Birch box joint construction
Dadoed baffle into sides
1×12 is vented 16 Ohm
2×12 is sealed 8 Ohm
Vintage 30's
Tone Bra from the LA Custom Electric is standard
Proprietary jack selection circuits
---
Modular Speaker Cabinets are manufactured and sold by Old Dog Products, LLC.  To purchase drop us a line on our contacts page.